Ice Cream In Zandvoort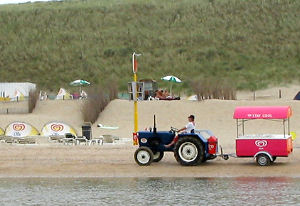 Zandvoort
offers a wealth of opportunity for eating ice cream - ideal for adults and children alike on those warm, sunny days. In Zandvoort you can find
ice cream parlours
and ice cream kiosks down in the village but even if you are on the beach you don't miss out .... the beach pavilions all sell ice cream and there are also ice cream vendors who drive up the beach on sunny days, usually in a tractor towing a small ice cream cart behind. It's a wonderful sight! Here's a photo of one we took on Zandvoort's south beach (
naturist beach
section).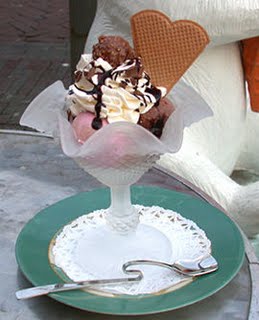 There is one particular ice cream parlour in Haltestraat which we always call in at when we are in Zandvoort. It's called "San Remo" and the Italian couple who run it are total ice cream enthusiasts who make their own ice cream including a very special 'secret recipe' which they call "Dolce Vita". It's a chocolate ice cream but with a difference - delicious!
You can just grab an ice cream cone or ice cream tub as a take-away treat or you can sit down inside the parlour and enjoy a fabulous ice cream sundae at your leisure - like the one in the photo that we shared!
If you're an
ice cream sundae
fan, it's a place not to miss.
Labels: ice cream, ice cream parlours, naturist beach