Ice Cream - At Night!
Something we always enjoy on a trip to Zandvoort is an ice cream treat at the San Remo ice cream parlour. If you read our
Ice Cream In Zandvoort
post you will already know that!
One evening we had been out to dinner with a friend (an expert in Zandvoort weather) and afterwards we took a stroll down Haltestraat and called in at the San Remo. It was busy! The ice cream is delicious and the atmosphere pleasant. Here is one of the photos we took as we left.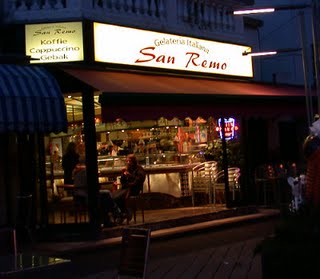 Read more about
ice cream parlours
in Zandvoort.
Labels: ice cream parlours