Zandvoort Kitesurfing Interview
It's not often you get to talk to an expert kitesurfer - they are usually too busy out on the water!
As mentioned in our previous
Kitesurfing In Zandvoort
post, one of the regular Zandvoort kitesurfers
Okke Engel
gave us an interview this summer. He had just finished a session kitesurfing in Zandvoort when we caught up with him over a cup of coffee and chatted about what life is like in the 'fast lane' of this extreme sport.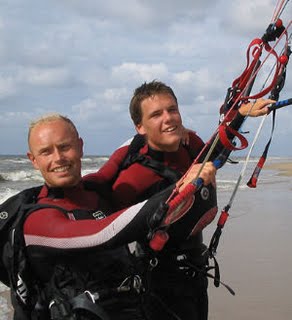 In the interview he describes the all important weather conditions on the day, tells us a little about his background (he started windsurfing at the age of 12) and how he is now running his own
kitesurfing school
.
Watch the whole
kitesurfing interview
with Okke exclusively made for
zandvoort-holland.com
Photo: Okke with a kitesurfing student on Zandvoort beach

Labels: interview, kitesurfing, okke engel, video