Water Sports in Zandvoort ... and Northumberland!
Windsurfing,
kitesurfing
and water sports in general are a big attraction for visitors to
Zandvoort
. People come from all over Europe to enjoy what the sea has to offer on this part of the Dutch coastline.
One of the most well known and celebrated kitesurfers is
Aaron Hadlow
who is British. I don't know if he's ever been to Zandvoort but coming from an island of course he has plenty of coastline for water sports almost in his back yard - so it's no surprise that Britain should produce a world kitesurfing champion!
There are many water sports centres on the coast of Britain - for example I know of one on the Northumberland coastline in a small village which you've probably never heard of called
Beadnell
. Beadnell used to be a busy fishing port but times have changed - just like in Zandvoort - and today Beadnell is more well known for its clear and sparkling water as well as miles of clean, sandy beaches which makes it an ideal place for water sports.
On the
Northumberland coast
there is plenty of other outdoor fun - fishing, riding, walking, golf, birdwatching. There are also many historic places including Alnwick Castle (Hogwart's Castle as some call it because it was used in the Harry Potter films). The most spectacular castles are on the coast however - Bamburgh Castle and Dunstanburgh Castle.
If you ever visit Northumberland and you want a self catering holiday cottage, there are some super
Northumberland cottages
especially along or near to the coast.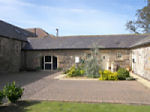 Here are 2 really nice places we heard about, both in Beadnell and both with Enjoy England 4 Star Awards:
Cloggy Nook - Beadnell holiday cottage
East Cuttles - Beadnell holiday cottage
(photo)
Labels: aaron hadlow, cottages, kitesurfing, northumberland, water sports, windsurfing