A New Year For Zandvoort
Another year passes and so we move onto another New Year - 2010. One of the first things many people do in January is to start planning their summer holidays. Some people choose a destination in a hot climate such as
Thailand
or
Jamaica
or
Florida
; some people prefer to stay in their home country; some people enjoy history so travel to places with interesting historical backgrounds; some people like to go to where there is lots happening - perhaps sporting events, music festivals, craft and antiques fairs ... the list is endless!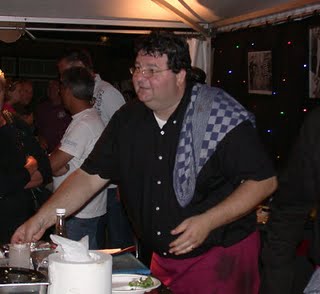 2010 in
Zandvoort
should be an interesting year with plenty of sporting events taking place at the
Circuit Zandvoort
and the usual plethera of 'special events' organised during the summer months. There was a great food festival in the town in August last year with local restaurant and bar owners all cooking food in small marquees for the pleasure of the town's people and tourists. Here is a great photo of Ron Brouwers, owner of the Laurel and Hardy (one of the best
bars in Zandvoort
), cooking for hungry diners. A great guy and always great food - and doesn't he look like Oliver Hardy?!
July and August are usually great months for activities in Zandvoort and if the sun shines too .... well that's about as good as it can get!
Labels: circuit zandvoort, laurel and hardy, sporting events