Kitesurfing & Walking The Kite
One of the most popular pastimes in Zandvoort is
kitesurfing
. We started covering this topic in our
Zandvoort Blog
a while ago when we did our first post about
kitesurfing in Zandvoort
.
Classed as an 'extreme sport' it attracts many kitesurfers to the
Zandvoort beach
every year. We always enjoy watching them and this summer we took more photos than usual, even filming a kitesurfing teacher Okke Engel (photographed below walking his kite after a long kitesurfing session). You can watch Okke showing how it's done in our
kitesurfing video
.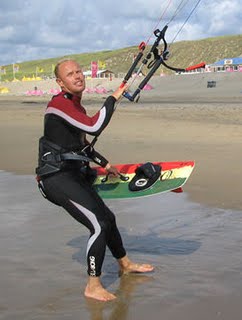 Below is an interesting picture of a girl who was learning to kitesurf last summer - she was able to kitesurf downwind (towards the north beach) but had not yet learned how to sail into the wind and return back southwards. So every time she went as far north as she could within the kitesurfing zone, she had to come in to shore and walk her kite back up.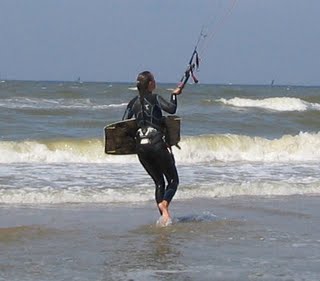 Kitesurfers always keep a keen eye on the weather and with
Zandvoort weather
you have to know what you are doing. The winds can be very strong and the weather sometimes unpredictable. Understanding the weather conditions is crucial to safe kitesurfing.
Read more about kitesurfing - check out the some
kitesurfing FAQs
(kindly written for us by Okke Engel).
Here is a list of
kitesurfing locations
around the world.
Labels: kitesurfing, kitesurfing zones, okke engel, video, zandvoort weather