Hotels Old & New In Zandvoort
Before visiting Zandvoort most people search for some good accommodation, usually a hotel that comes well recommended. Many hotels in seaside resorts have guests who come back year after year and Zandvoort is no exception. People have been visiting Zandvoort for rest and relaxation for well over a century including European royal families and aristocrats back in the late 19th century who went there for the benefits of
spa
and sea water treatment.
The tradition of people returning to the same accommodation in Zandvoort is well established. First of all, me and my family have stayed at only 5 places in over 30 years of visiting Zandvoort. In the beginning it was one of the bed and breakfast houses with rooms for rent. Then when the owner sold up, we found a great holiday apartment where the owner was a friend of a friend. It was on the Boulevard Paulus Loot and looked out onto the sea. We stayed there for many years. However, there were times when the apartment was booked during the weeks we wanted to stay so we chose a hotel. The hotels in Zandvoort are quite varied from a couple of 4 star large hotels to a handful of smaller, family run hotels.
It is difficult to say which is the best choice for accommodation in Zandvoort because it all depends upon your needs, how much time you want to spend in the accommodation, whether you have children and of course your budget.
Accommodation for visitors has been available in Zandvoort for a long time. Over 150 years ago the first spa hotel was built and a succession of quality hotels were built soon after. These included the Hotel d'Orange, the Bad Hotel Driehuizen and the Grand Hotel. These were fine examples of architecture from that time.
The Hotel d'Orange in Zandvoort was notable. It had 4 towers, over 100 rooms, a concert theatre and even an indoor skating ring.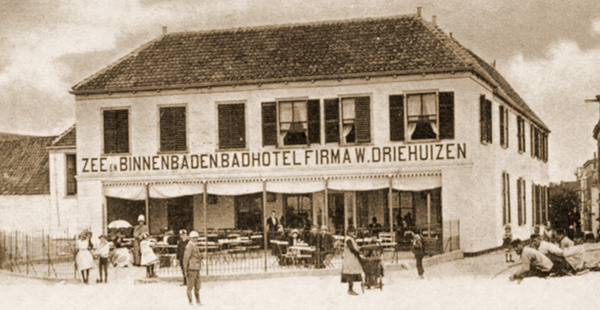 There is lots more to read about the
old hotels in Zandvoort
. It makes for fascinating reading especially if you are travelling to Zandvoort for the first time. I hope will inspire you to visit the town. As you walk down the Boulevard de Favauge stop, breathe the fresh sea air, close your eyes and imagine travelling back in time over a century to see the hotel in its prime. If only time travel were really possible!
Labels: hotel d'orange, old hotels